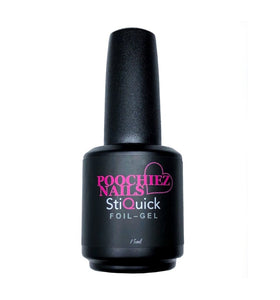 Nail Foil Directions.
1. Polish nail with a base color then cure.
2. Apply foil gel cure for 30-60 sec. Please do a test nail to see
what your curing time is (All lamps are not the same).
3. Wait one minute then apply the foil. Apply with a little pressure and gently rug the foil in, remove slowly do not snatch it off.
4. If the foil does not stick wipe the back with alcohol, then apply, (Some Prints require this). That's Why it's important to do a test nail.
5. Apply Poochiez Top Coat and cure for 60 sec.
NOTES:
DO NOT TOUCH THE FOIL GEL AFTER CURING ON THE NAIL.
DO NOT TOUCH THE SIDE OF THE FOIL THAT GOES ON THE NAIL. IF ANY OILS GET ON THE FOIL GEL OR THE FOIL THE FOIL MAY NOT STICK.
WHEN DOING FULL NAIL COVERAGE (BE SURE TO LEAVE A TINY BIT OF SPACE AT THE FREE EDGE AND SIDE WALLS WHEN PLACING FOIL FOR A BETTER SEAL).
WE TEST ALL OF OUR FOILS, AND KNOW
THAT THEY WORK.

WE TESTED THIS FOIL GEL WITH
COLOR CLUB LAMP, OPI STUDIO LAMP, GELISH LAMP, KIARA SKY LAMP.
Tutorial: https://youtu.be/ZN1zFtreaw0